News Headlines

CLUB UK PRESS RELEASE :: THE ICONIC CLUB IS COMING BACK!
CLUB UK PRESS RELEASE :: THE ICONIC CLUB IS COMING BACK!

Reported by News Editor / Submitted 05-07-21 13:16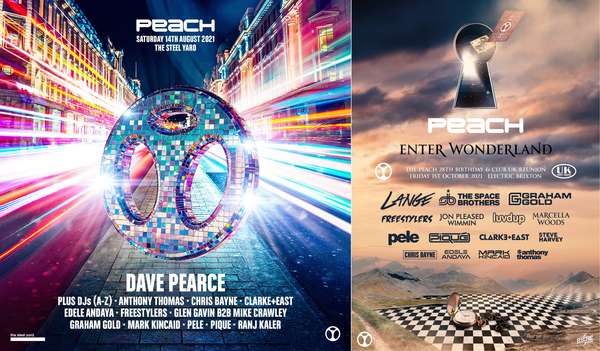 London club Peach which relaunched with outstanding success in 2014 has bought the branding rights to the iconic London and Midlands club - Club UK!

Club UK will be relaunching a series of events in 2022 that recapture the hedonistic and epic days of Friday and Saturday nights in Wandsworth. It will be like stepping back into the past with much of the paraphernalia associated with the Pop Art Room. Of course, at Club UK it was all about the clubbers, the atmosphere, the music and the DJs. We have been in touch with all the residents and many of the regular guests, all of whom have given the venture huge thumps up, as have members of the Club UK Facebook group https://www.facebook.com/groups/6914147969

On October 1st this year Peach celebrates its 28th birthday at Electric Brixton (formerly The Fridge) when we will begin Club UK's journey back into the lives and the hearts of clubbers. The 2nd room at Peach's 28th Birthday will be branded Club UK with the house vibe we all miss. We have two massive Club UK DJs – the amazing Jon Of The Pleased Wimmin and LuvDup booked, alongside one of the main Club UK residents - Steve Harvey.

When the stand-alone Club UK nights start in 2022 we will of course be adding many more of the DJs who totally rocked the Final Frontier nights every Friday.

Peach successfully relaunched in 2014 and have sold out all our Koko (Camden Palace) events every year and then again in 2019 at The Steelyard. So, you may be thinking who actually are the Peach Team? Graham Gold who was a regular guest at Club UK, Chris Bayne who was both a Peach and Club UK regular and met Graham at Club UK in the Gism room on his first night ever clubbing, and finally Eric Pengelly, one of Graham's besties whom he actually met at Club UK back in 1993.

We all share the same passion for Club UK and will hold nothing back in restoring it to its former hedonistic glory day. Musically Club UK was one of the iconic UK brands that redefined clubbing during the transition from big old raves to closed clubs.

We have set up new pages on social media https://www.facebook.com/ClubUKOfficial and https://www.instagram.com/clubukofficial/
---
Share this ::

:

:

:


Follow HarderFaster ::

---
All trademarks and copyrights on this page are owned by their respective companies. All other content is (c) 2001-2023 HarderFaster.